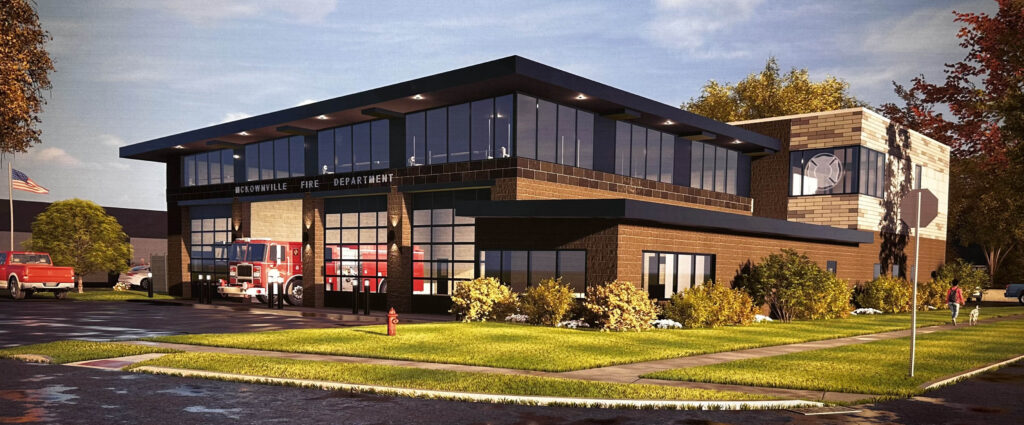 Save the Date!
Please join us for our first of two public informational meetings about the proposed new McKownville Firehouse at 7pm on Wednesday, October 25, 2023 at 1250 Western Avenue.
The meeting will be recorded and made available to the community upon request.
Questions from the community received via email and during our two public informational meetings will be answered below as they are received.
---
Frequently Asked Questions
What is the McKownville Fire District?


The Fire District is a municipal entity authorized by the laws of New York State to exist as the business entity that manages finances and equipment used by the Fire Department. The District owns, administers, and maintains the land, building and equipment used for emergency response in the District's defined area.

The Fire District is empowered to levy fire taxes directly to the people who live within the District boundaries, similar to how a school district levies taxes.

The District is lead by five elected volunteer Fire Commissioners and utilizes a secretary and a treasurer to help conduct its business.
What is the McKownville Fire Department?


The McKownville Fire Department provides fire protection and rescue operations 24 hours a day, 7 days a week, 365 days a year.

Members of the McKownville Fire Department are 100% volunteer. They are your friends, neighbors, and relatives who have made a commitment to answer the call to respond to emergencies in your community.

They train and meet at least weekly to maintain mandated standards and to be best prepared when the call comes to serve. The Department responded to over 250 calls in 2022.
Who do I contact for more information on the proposed new firehouse project?


Please contact the Building Committee via email: building@mckfd.org